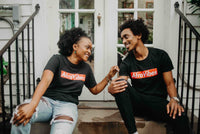 Welcome to the AfroVibes Store
AfroVibes encompasses positivity and our sole mission is to positively promote the African culture. Our shirts were designed to highlight our AV community around the globe and this year will be our 5th year anniversary! Show the world you're with team #AfroVibes.  
Order this shirt
About AfroVibes
AfroVibes (AV) is the leading brand for African creatives and professionals. Since launching our official site in 2016, the brand has quickly become a strong voice that unites in celebrating culture. Reaching over 15 thousand people per week through our website and social media platforms combined, we hope to continue being the #1 destination for Africans looking to connect through music, shared stories, and events.
We appreciate all those who have connected with us or previously purchased an item. Your support helps us grow. #AfroVibes
Testimonials From Our #AVinfluencer Community
I am a physician and artist born and raised in Kumasi, Ghana. The vibe is always right when it pertains to Africa so don't let anyone tell you otherwise 

Dr. Kofi Sarfo-Kantanka
I love my heritage because it symbolizes my strength and it defines and represents who I am as a person, something I take great pride in. 

Kwasi Beast, MTV Reality TV Show "Are You The One" Co-Star
Although I was born and raised in NY-TX my heart is in Nigeria and more specifically Benin. The first time I traveled to Nigeria, I immediately felt like I arrived home. It was a supernatural feeling that I will never forget. My heritage is everything to me.  Shoutout to AfroVibes for this amazing platform!

Olufemi Guobadia
I couldn't be any more proud of my heritage and I got that vibe from Douala, Cameroon. I'm Tony Tchani and don't mispronounce my last name either.

Tony Tchani, Professional Soccer Player
I love my heritage because it keeps me deeply grounded in my core values and beliefs. My heritage has always been the catalyst that has propelled me towards constantly striving to actuate my life's purpose, which is to inspire, cultivate and invest in future generations from my beloved Motherland.

Dr. Omosude
The AfroVibes T-shirt is a constant reminder of how much I LOVE being AFRICAN, how beautiful we ALL are, and the DIVERSITY of our cultures and dance movements. There is nothing else I'd rather be.

Peter Uwalaka, African Dancer/Middle School Principal
Culture unites us, culture brings out the best in us, I live for the culture. Cameroonian born, blessed beyond imagination. 

Gilbert Bangha
I was born and raised in Douala, Cameroon. I moved to America in 2006 and went back to visit this February after 10 years and it was amazing. 

Venance, Model
A man asked me what AfroVibes was about. I explained to him that to me, the AfroVibes T-shirt represents celebrating cultural differences and heritage. It's about young Africans/African descendants embracing the responsibility of challenging stereotypes, thinking globally to solve local problems, and exceeding boundaries. 

Michael Adeyinka